Getting a pedicure is a great way to pamper yourself. There are many different services to choose from, and you can even get a resort-style treatment. A good pedicure will make your feet feel soft, smooth, and revitalized. With the right nail colour and design, you'll be able to wear sandals with confidence on summer days. Here are 10 of the most popular pedicure services that people enjoy.
Traditional Pedicure
A traditional pedicure includes soaking your feet in warm water, filing down any rough spots on your nails, trimming nails, cutting toenails, scrubbing your feet with a pumice stone, massaging them with lotion or cream, and clipping cuticles. This type of pedicure is great for when you want to give yourself a little pampering session.
Traditional pedicures are also good for when you have dry skin on the bottom of your feet. The scrubbing and massage will help remove dead skin cells that can leave you feeling itchy during the winter.
If you're worried about having unsightly hangnails or calluses, this is also the perfect service for you. A traditional pedicure will get rid of these gross-looking problems.

Spa Pedicure
A spa pedicure is a traditional pedicure that offers full service. In this pedicure, the nail technician will remove all the dead skin cells from your feet and add a foot soak to soften your skin. They'll then trim and shape your nails, scrub your feet with exfoliating beads, and finally apply a moisturizing cream to keep your feet hydrated.
The spa pedicure is an excellent choice if you're looking for a relaxing experience and you want all the bells and whistles. Price-wise, it can be one of the more expensive options since it covers so many services.

Read more:
French Pedicure
A french pedicure includes a clear or pink polish on the nails and a small white tip. This is a popular option for those with shorter nail beds because it still has an eye-catching design. The French pedicure is created by using a drill to grind down the nail to create a smooth surface, then painting the nails with two coats of white polish followed by one coat of colour polish.

Moss Haven Pedicure
The Moss Haven Pedicure is a service that will make your feet feel soft and revitalized. This pedicure will include a lot of pamperings, such as a hot towel wrap and foot massage. You'll also get polish of your choice, scrubbing, nail shaping, cuticle treatment, and a topcoat.
This is a perfect pedicure for anyone on their feet all day. The scrubbing will remove the dead skin cells from your soles so you can walk around comfortably without feeling gross. The nail shaping will help your nails grow strong and healthy so you won't have to worry about breakage or chipping over time.
You'll love this service because it's just as relaxing as it is effective. With the hot towel wrap and foot massage, you'll be able to take all the time you need to recoup from a long day at work or school.
Gel Pedicure
One of the most popular pedicure services is the gel pedicure. This service applies a hard, protective coating over your nails and toes to prevent chipping and peeling. The coating also provides extended life for your manicure and pedicure, which is often up to two weeks long.
The gel polish will last longer because it doesn't chip or peel as other nail polishes do. It's also more durable than regular polish and you don't need as many touchups. Another benefit of gel polish is that it creates a glossy shine that you can't get with regular polish alone.
The downside to this service is that it can be pricey and time-consuming. You'll need to book an appointment beforehand so you don't have time constraints while getting your treatment done. Gel manicures are perfect for those who want a shiny, durable nail coat without having to use frequent touch-ups.

Rockstar Pedicure
Rockstar Pedicures are a great, all-inclusive pedicure that includes a foot soak, exfoliation, callus scrubbing, and an indulgent massage. After a pedicure, your feet will be soft and smooth with a french manicure.
Rockstar Pedicure
Spa Pedicure
Sponge Pedicure
Mini Pedi
Deluxe Pedi
Polish Change
Paraffin Wax Treatment
Foot Detox Treatment
Shellac Mani/Pedi
Toe Polish Change
Tropical Foot Spa
The tropical pedicure is a popular choice because it includes a great deal of pampering.
A therapist will clean your feet and scrub off any dead skin. They will then apply a lotion to soften your skin and nails. After the lotion dries, they will remove the excess with a foot file. A callus remover can also be used if needed.
Next, you'll soak in the warm water for 15 minutes while receiving an exfoliating treatment. The therapist will massage your feet and put on another layer of lotion to hydrate and protect them from the outside world.
If desired, you can also get a massage or paraffin wax before or after your treatment for that extra relaxation boost.
Tropical pedicures are available at most nail salons and spas for under $40 (not including tips). It costs more than other pedicure services because it's such extensive service.

Chocolate-Covered Strawberry Pedicure
This is a pedicure that's as sweet as it sounds. The chocolate-covered strawberry pedicure is one of the most popular pedicures because it's so decadent.
The service includes scrubbing your feet with an exfoliating sugar scrub, followed by a chocolate massage. Next, you get to soak in the tub while enjoying some strawberries dipped in dark chocolate. And of course, you can't forget about the nail polish colour of your choice!
This pedicure is perfect for anyone who loves indulging in sweet treats…but not too many sweets!
Cucumber Lemonade Pedicure
This classic pedicure is a favourite for people who love the feeling of having their feet wrapped in warm towels. A cucumber lemonade pedicure is also known as a spa pedicure with an exfoliating scrub and mask. After removing calluses and dry skin with a foot scrub, your nail technician will apply a hydrating mask to your feet and massage them for five minutes.
The cucumber lemonade pedicure service concludes with a round of lemon-scented sugar scrub on the bottom of your feet, followed by cooling lotion to soothe calluses.
Whirlpool Therapy Foot Massage
A whirlpool therapy foot massage is a luxurious and therapeutic spa treatment. This pedicure includes soaking your feet in a whirlpool bath of warm water, which will soothe and heal your skin. The therapist will then use essential oils to relax and rejuvenate you before applying a foot scrub. After this, she will massage your feet with her hands or with an electric brush to help stimulate circulation.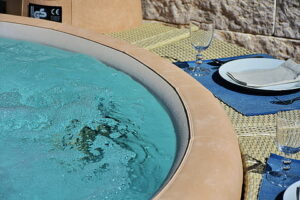 ---
Adore Nails is a nails salon in Baton Rouge, LA 70809.
We offer every service for nails, from mani to pedi to more. We are focused on your beauty and offer the best in nail care.
Adore Nails can be found at 6725 Siegen Ln Baton Rouge, LA 70809 within the Siegen Village. We are open seven days a week from 9 A.M. to 6 P.M. (Monday through Saturday) and 12:00 A.M. to 5 P.M. (Sunday).